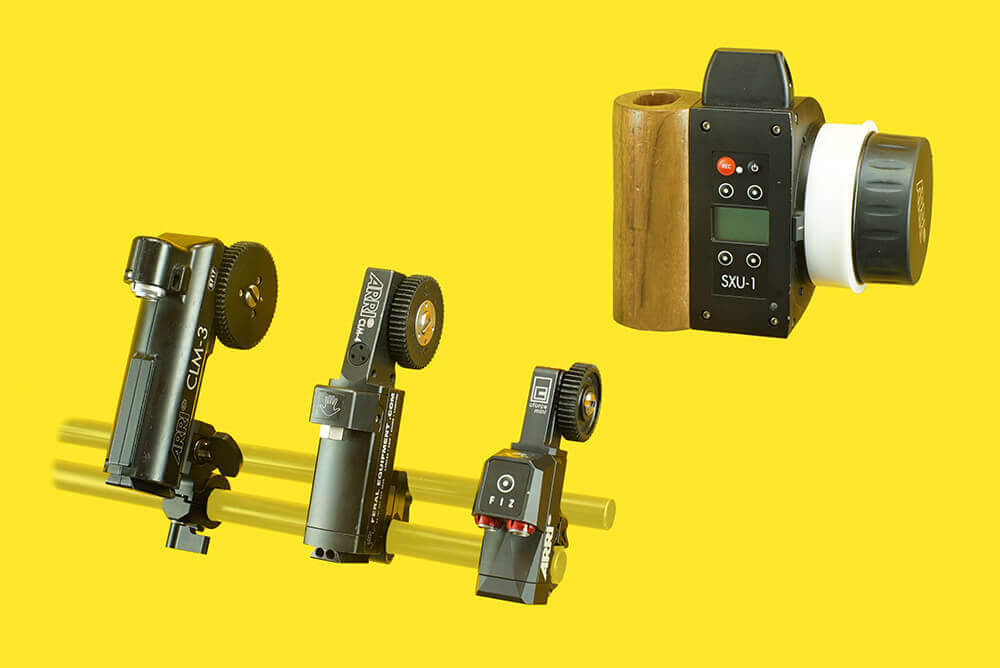 Arri SXU-1 Single Axis Unit
Arri SXU-1 Single Axis Unit is a wireless hand unit offering single-axis focus, iris, or zoom control. The compact SXU-1 features remote camera start/stop and tally, an ergonomic wooden handgrip, and a backlit, super-smooth control knob. Can be supplied with clm or c-force motor.
If you're using this with a camera that isn't an Arri, you will probably need our UMC-4 Brain.
Single Axis
The Single Axis Unit SXU-1 is a simple single channel hand unit that can be set up to control focus, iris or zoom. The SXU-1 can be used along the WCU-4 for separate iris control, perhaps operated by the cinematographer in situations where subtle exposure adjustments are required during travelling shots. Alternatively it can be used with the SMC-1 single motor controller, providing a simple, low cost option to productions that do not need multi-axis wireless lens control.
Backlit Focus Knob
The super-smooth focus knob contains an integrated light source that shines through the wide focus ring in low light conditions, thus providing clearly readable focus marks at all times.
Optional Mounting Options
The optional Rigger Grip (K2.0000849) handgrip for SXU-1 includes UNC 3/8"–16 treads on two sides that allow mounting the SXU-1 on C-stands and other common on-set rigs.
Exceptional Quality and Service
The SXU-1 embodies the reliability and durability for which ARRI is famous. Wear and tear parts are replaceable at rental level, and the worldwide ARRI Service network ensures rapid second level support if needed. New firmware versions can be installed to the unit via SD card.
Compatible to
Universal Motor Controller UMC-4
Single Motor Controller SMC-1
ENG Motor Controller EMC-1
Active Motor Controller AMC-1
ALEXA Mini
ALEXA Plus
ALEXA Plus 4:3
ALEXA XT Plus
ALEXA SXT Plus
ALEXA Studio
ALEXA XT Studio
ALEXA SXT Studio
ALEXA 65
ARRICAM, ARRI 416PLUS, ARRI 435 Extreme equipped with white radio (basic functionality)