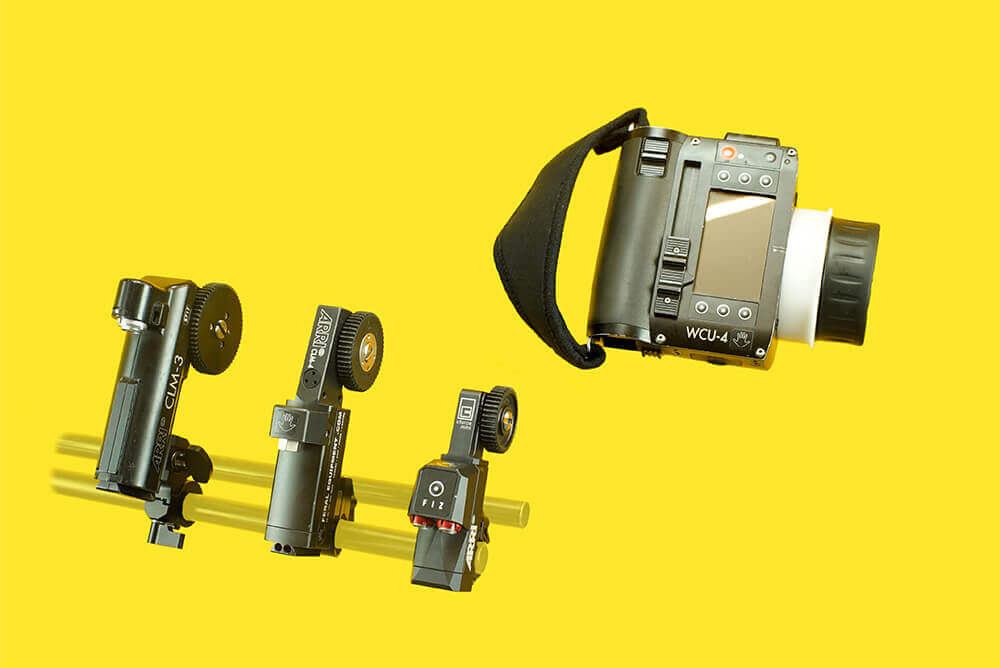 Arri WCU-4 LCS
If you are looking for the best wireless follow focus option for your Alexa Mini, then the WCU-4 is it. This lens control system pairs seamlessly with Arri C-Force Mini Motors or the Arri C-Force Mini RF for perfect control over zoom, focus and iris. The WCU-4 combines three axes of lens control with a lens data display in a compact and ergonomic housing. Weighing around 780 grams including battery, it's one of the lightest hand units in its class, providing  a comfortable grip during a long working day. The super-smooth focus knob contains an integrated light source that shines through the wide, optionally pre-marked focus ring in low light conditions, thus providing clearly readable focus marks at all times. And the friction of the focus knob can be easily adjusted to one's personal preference without any tools.
The display is clear and easy to read with lens information, as well as distance measurement data always available on the large 3". The transflective display technology used by Arri always ensures perfect readability in all lighting conditions (including bright sunlight), so you won't need to strain your eyes!
The WCU-4 user button can be configured to activate focus tracking – setting the focus motor to continuously follow a subject by using an ultrasonic distance measurer and with the help of tactile vibrating feedback, you are able to keep your eye on the action if need be, allowing you to concentrate on the scene knowing that the hand unit will vibrate to prompt when focus markers are reached.
Weighing only 67g, the WCU-4 plate is made of durable, aircraft-grade aluminium. The Arri WCU-4 is completely splash-proof and is as tough as you would expect it to be.
Our kit comes with a C-Force Mini Motor and all the relevant cables and accessories.
Not shooting on Arri cameras? You might need our UMC-4 brain.
Follow us on Instagram to see more of our kit in action.
Arri WCU-4 Specs
Power supply: NP-FM500H battery (Sony) or compatible batteries or power via LCS cable through ARRI camera (cabled mode)
Weight: 67g
Compatible with:
Universal Motor Controller UMC-4
Single Motor Controller SMC-1
ENG Motor Controller EMC-1
Active Motor Controller AMC-1
ALEXA Mini
ALEXA Plus
ALEXA Plus 4:3
ALEXA XT Plus
ALEXA SXT Plus
ALEXA Studio
ALEXA XT Studio
ALEXA SXT Studio
ALEXA 65
ARRICAM, ARRI 416PLUS, ARRI 435 Extreme equipped with white radio (basic functionality)