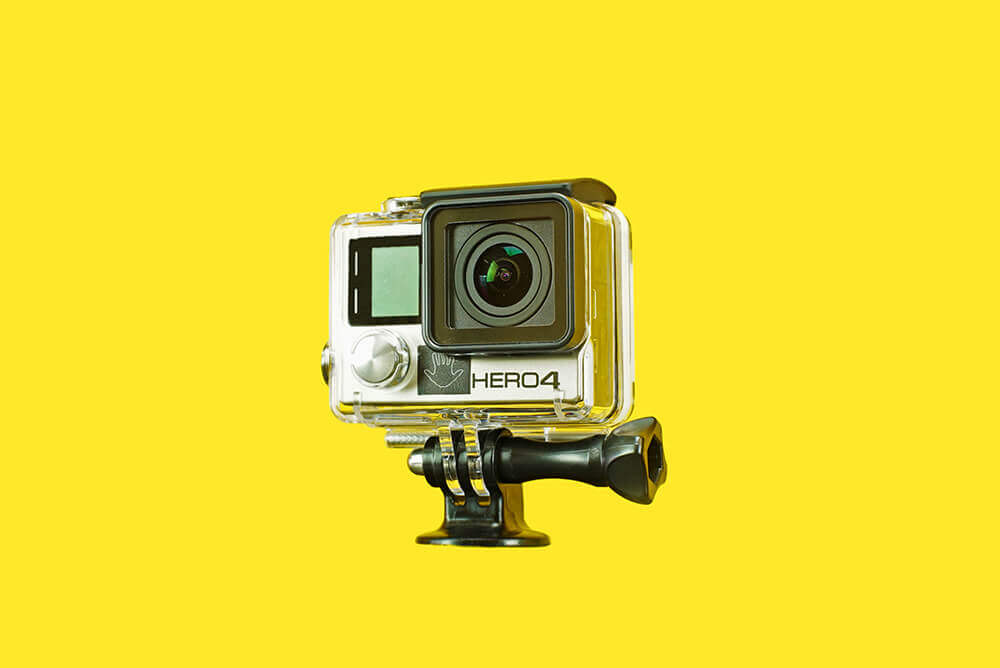 GoPro Hero4 Black
Need to stick a camera on a windmill or attach it to a Moto GP rider? You know what you need – a GoPro! The GoPro Hero 4 Black might be a little older now but it still holds up extremely well against its newer family members. GoPros are 'point of view' cameras – they capture what you're doing, not necessarily what other people are doing, and what has made these cameras so groundbreaking is their small size and high-quality and high-resolution footage – and the characteristic GoPro wideangle 'look'. This is a camera that can sit in the palm of your hand which can capture 4K video at an incredible 30 fps (that's the same as the Panasonic GH4). The lens has a 170 degree angle of view so you're unlikely to ever miss anything, making this the perfect holiday or sports companion.
The GoPro Hero 4 Black records ultra high-resolution- up to 4K at fps30, 2.7K at 50fps, and 1080p at 120fps. It is sturdy as all hell and waterproof to 131′ (40m): designed to withstand extreme environments and conditions! It also has fast and powerful photo capture with the ability to record 12MP photos at speeds of up to 30 fps.Built-In WiFi + Bluetooth: Delivers enhanced connectivity to the GoPro App, Smart Remote
The GoPro Hero 4 Black comes with various mounts, for your head, your waist or your surf board and waterproof housing for when you want to go swimming. We also include a useful LCD touch screen backpack for the camera so no need to connect to an external device for checking your composition!
Need a second GoPro? We also have the GoPro Hero 6!
Follow us on Instagram to see more of our kit in action.
GoPro Hero 4 Specs
Video resolution: 4K (3840×2160) at 30/25/24fps, 1080p at 120/90/60/50/48/30/25/24fps
ISO range: 400-6400 for video, 100-800 for photo
Connections: Mini USB, Micro HDMI, MicroSD (up to 64GB)
Weight: 89g (152g with housing)