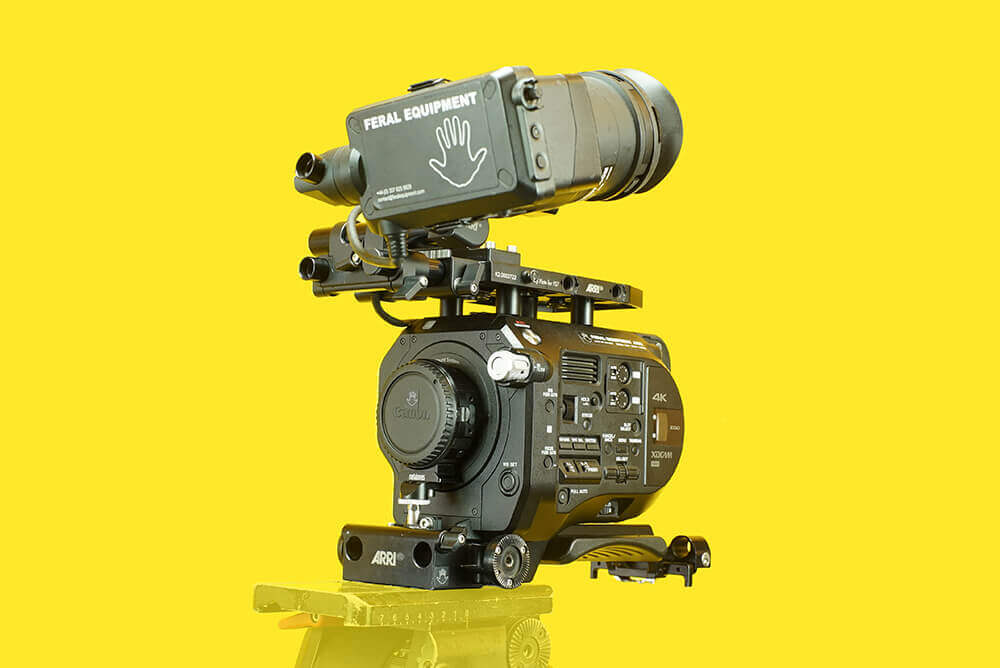 Sony FS7 4K Camera
The Sony FS7 (PXWFS7) is a 4K Super 35mm Exmor CMOS sensor camera. The FS7 is a Sony E-mount camera and has 4K RAW, 2K RAW and XAVC recording options. The FS7's ergonomic grip design additionally makes it easy for handling; ideal for one-man operation!
The camera supports for shooting in 4K 60p or Full HD at high frame rates of up to 180 fps. Recording formats for the FS7 include XAVC, which supports 4K 60p, Full HD 60p even in 4:2:2 10-bit recording, as well as the common MPEG-2 HD 422.
You can hire an optional add-on extension unit (XDCA-FS7) to open up the possibilities of multi-camera shooting and ProRes 422 encoding. (Ask us about this when hiring!)
Sony provides an incredibly useful and comprehensive online guide to the FS7 which you can watch here.
Not quite what you're looking for? Take a look at our other cameras.
Sony FS7 Specs
Sensor Size: 23.6 mm x 13.3 mm (Super 35)
Video Resolution: 4K
Sensor Resolution (Mega Pixels): 11.6MP (Total), 8.8MP (Effective)
Resolution: 1920 x 1080, 2048 x 1080, 3840 x 2160, 4096 x 2160
Dynamic Range: 14 Stops
Native ISO: ISO 2000
Lens Mount: Sony E Mount
Frame Rates: 23.98p, 25p, 29.97p, 50i, 50p, 59.94i, 59.94p
CODEC: MPEG HD422, XAVC I, XAVC L
Recording Formats: MPEG HD422: MPEG-2 422P@HL, XAVC-I / XAVC-L: MPEG-4 H.264/AVC
Recording Media: XQD
Internal ND: 1/4 – 1/64 (6 Stops)
Audio Inputs: 3-pin XLR (2)
Shutter: Rolling (Electronic)
Audio Channels: 4 (LPCM 24 bit)
Bit Depth: 10 bit, 12 bit RAW (External)
Chroma: 4:2:2
Focus System: Contrast AF, MF
Max. Frame Rates: 150fps at HD (50p, 25p), 180fps at HD (59.94P, 29.97P, 23.98P), 60fps at 4K
Video Outputs: 1 x HDMI (Type A), 2 x 3G-SDI / HD-SDI
Weight: 2kg body only, 4.5 kg apx with Viewfinder, Eyepiece, Grip Remote Control, BP-U30 battery, SELP28135G LENS, an XQD memory card
Dimensions: 15.6 x 23.9 x 24.7 cm (body)
Power Consumption: Approx. 19W (while recording XAVC-I QFHD 59.94P, SELP28135G Lens, Viewfinder ON, not using external device)
Operating Temperature: 0°C to 40°C / 32°F to 104°F
Battery Operating Time: Approx 1 hrs with BP-U30 battery (while recording XAVC-I QFHD 59.94P, SELP28135G Lens, Viewfinder ON, not using external device) Approx 2 hrs with BP-U60 battery (while recording XAVC-I QFHD 59.94P, SELP28135G Lens, Viewfinder ON, not using external device)
Recording Format (Video)
XAVC-I mode:    QFHD 59.94P CBG, bit rate 600Mbps, MPEG-4 H.264/AVC
XAVC-I mode:    QFHD 50P CBG, bit rate 500Mbps, MPEG-4 H.264/AVC
XAVC-I mode:    QFHD 29.97P CBG, bit rate 300Mbps, MPEG-4 H.264/AVC
XAVC-I mode:    QFHD 23.98P CBG, bit rate 240Mbps, MPEG-4 H.264/AVC
XAVC-I mode:    QFHD 25P CBG, bit rate 250Mbps, MPEG-4 H.264/AVC
XAVC-I mode:    HD 59.94P VBR, maximum bit rate 222Mbps, MPEG-4 H.264/AVC
XAVC-I mode:    HD 50P VBR, maximum bit rate 185Mbps, MPEG-4 H.264/AVC
XAVC-I mode:    HD 59.94i VBR, maximum bit rate 111Mbps, MPEG-4 H.264/AVC
XAVC-I mode:    HD 50i VBR, maximum bit rate 112Mbps, MPEG-4 H.264/AVC
XAVC-I mode:    HD 29.97P VBR, maximum bit rate 111Mbps, MPEG-4
Recording Format (Video)
XAVC-L QFHD 59.94P/50P mode:             VBR, maximum bit rate 150Mbps, MPEG-4 H.264/AVC
XAVC-L QFHD 29.97P/23.98P/25P mode:             VBR, maximum bit rate 100Mbps, MPEG-4 H.264/AVC
XAVC-L HD 50 mode:      VBR, maximum bit rate 50Mbps, MPEG-4 H.264/AVC
XAVC-L HD 35 mode:      VBR, maximum bit rate 35Mbps, MPEG-4 H.264/AVC
XAVC-L HD 25 mode:      VBR, maximum bit rate 25Mbps, MPEG-4 H.264/AVC
MPEG HD422 mode:      CBR, maximum bit rate 50Mbps, MPEG-2 422P@HL
Recording Format (Audio)           LPCM 24 bits, 48 kHz, 4 channels (Recording/Playback ONLY 2channels)
Recording Frame Rate
XAVC-I QFHD mode:       3840×2160/ 59.94P, 50P, 29.97P, 23.98P, 25P
XAVC-I HD mode:            1920×1080/59.94P, 50P, 59.94i, 50i, 29.97P, 23.98P, 25P
XAVC-L QFHD mode:      3840×2160/59.94P, 50P, 29.97P, 23.98P, 25P
XAVC-L HD 50 mode:      1920×1080/59.94P, 50P, 59.94i, 50i, 29.97P, 23.98P, 25P
XAVC-L 35 mode:            1920×1080/59.94P, 50P, 59.94i, 50i, 29.97P, 23.98P, 25P
XAVC-L 25 mode:            1920×1080/59.94i, 50i
MPEG HD422 mode:      1920×1080/59.94i, 50i, 29.97P, 23.98P, 25P 1280×720/59.94P, 50P, 29.97P, 23.98P, 25P
Recording/Playback Time:
XAVC-I mode QFHD 59.94P, When using QD-G128A(128GB):        Approx. 22 minutes, When using QD-G64A(64GB) Approx. 11 minutes
XAVC-I mode QFHD 50P When using QD-G128A(128GB): Approx. 26 minutes, When using QD-G64A(64GB) Approx. 13 minutes
XAVC-I mode QFHD 29.97P, When using QD-G128A(128GB):        Approx. 44 minutes , When using QD-G64A(64GB) Approx. 22 minutes
XAVC-I mode QFHD 23.98P, When using QD-G128A(128GB):        Approx. 55 minutes , When using QD-G64A(64GB) Approx. 27 minutes
XAVC-I mode QFHD 25P, When using QD-G128A(128GB):             Approx. 52 minutes, When using QD-G64A(64GB) Approx. 26 minutes
XAVC-I mode HD 59.94P, When using QD-G128A(128GB):             Approx. 59 minutes,
Recording/Playback Time
XAVC-I mode HD 50P, When using QD-G128A(128GB):    Approx. 71 minutes, When using QD-G64A(64GB) Approx. 35 minutes
XAVC-I mode HD 59.94i, When using QD-G128A(128GB):              Approx. 118 minutes, When using QD-G64A(64GB) Approx. 59 minutes
XAVC-I mode HD 50i When using QD-G128A(128GB):      Approx. 141 minutes, When using QD-G64A(64GB) Approx. 70 minutes
XAVC-I mode HD 29.97P, When using QD-G128A(128GB):             Approx. 118 minutes, When using QD-G64A(64GB) Approx. 59 minutes
XAVC-I mode HD 23.98P , When using QD-G128A(128GB):            Approx. 147 minutes , When using QD-G64A(64GB) Approx. 74 mins
XAVC-I mode HD 25P, When using QD-G128A(128GB):    Approx. 141 mins, When using QD-G64A(64GB) Approx. 70 min
Imaging Device (Type): Super35 type Single-chip Exmor CMOS
Built-in Optical Filters: Clear, 1/4ND, 1/16ND, 1/64ND
Sensitivity: (2000 lx, 89.9% reflectance)
Video Gamma: T14 (3840 x 2160/23.98P mode 3200K)
ISO Sensitivity: ISO 2000(S-Log3 Gamma D55 Light source)
Minimum Illumination: 0.7 lx (+18dB,23.98P,Shutter OFF,ND Clear, F1.4)
S/N Ratio: 57 dB (Y) (typical)
Shutter Speed: 1/3 sec to 1/9,000 sec
Slow & Quick Motion Function:
XAVC-I mode 3840×2160: 1 to 60 frames (59.94P, 50P, 29.97P, 23.98P, 25P)
XAVC-I mode 1920×1080: 1 to 180 frames (59.94P, 29.97P, 23.98P)1 to 150 frames (50P,25P)
XAVC-L mode 3840×2160: 1 to 60 frames (59.94P, 50P, 29.97P, 23.98P, 25P)
XAVC-L mode 1920×1080: 1 to 120 frames (59.94P, 50P, 29.97P, 23.98P, 25P)
White Balance: Preset, Memory A, Memory B(1500K-50000K)/ATW
Gain: -3, 0, 3, 6, 9, 12, 18 dB, AGC
Gamma Curve: STD,HG,User,S-log3
Audio Input: XLR-type 3-pin (female) (x2), line/mic/mic +48 V selectable Mic Reference: -40, -50, -60dBu SDI
Output BNC: (x2), switchable with 3G-SDI/HD-SDI/SMTPE292M/424M/425M
Headphone Output: Stereo mini jack (x1) -16dBu 16Ω
Speaker Output Monaural:
DC Input: DC jack
Remote Stereo: mini-minijack (Φ2.5 mm)
HDMI Output: Type A (x1)
Option: 4-pin, Type A for W-LAN (x1)
Built-in LCD Monitor: 8.8cm (3.5 type) Approx. 1.56M dots
Built-in Microphone: Omni-directional monoral electret condenser microphone.
Media Type: XQD Card slot(x2)
SD Card slot(x1) for saving configuration data (Feral's kit includes an 8G SD card)