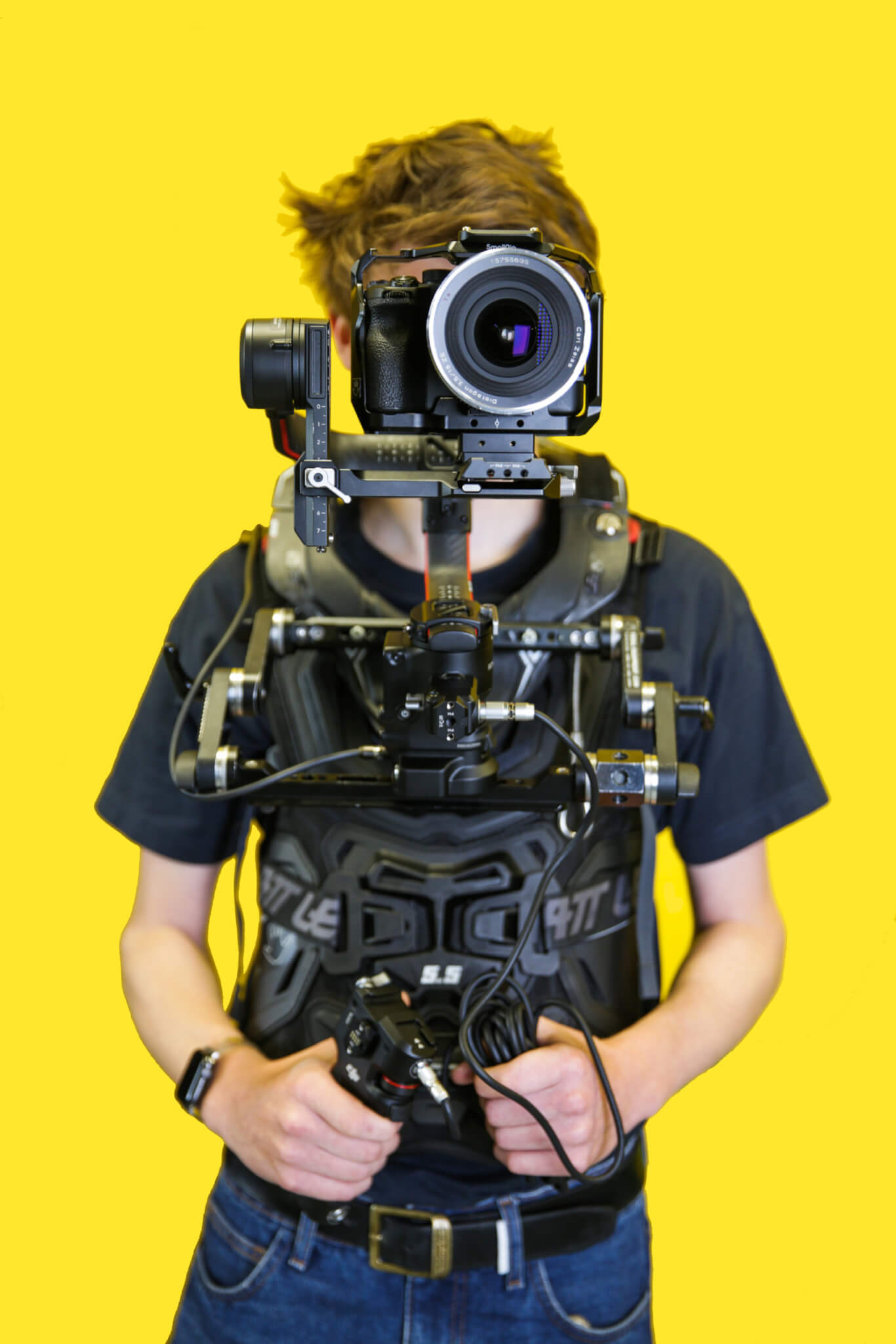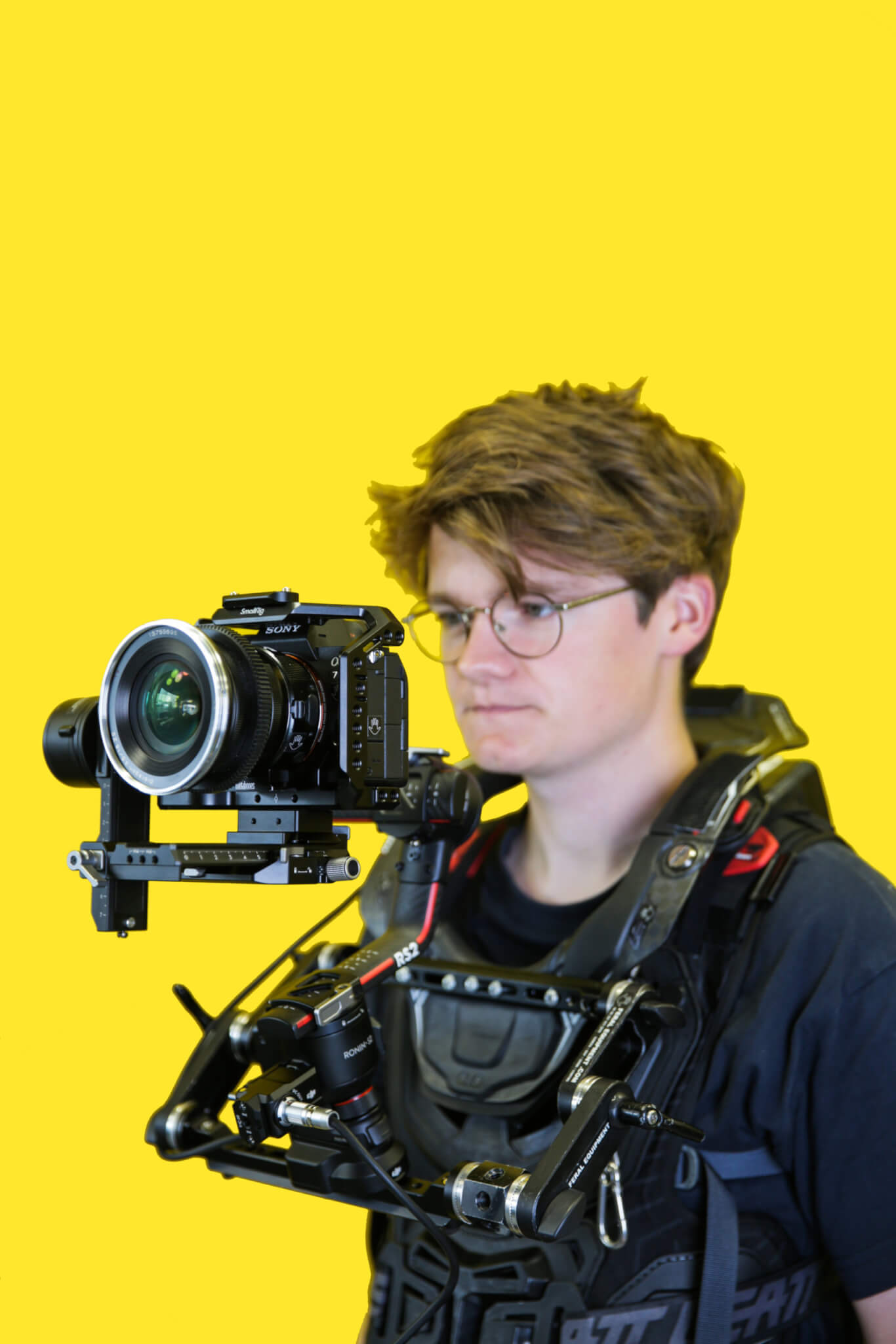 Player 1 POV Chest Rig
There are many POV style gimbals out there, our very own Feral
Kryten Head Rig
for one, which offer a realistic and humanlike point of view (think bobbing head when you walk etc). But what if you need that 100% smooth POV look that can't quite be achieved by just using just a gimbal on its own, we have the perfect rig for you – the Player 1 POV Chest Rig.
The Player 1 POV Chest Rig is a combination of our already existing Chest Rig, the DJI RS 2 and the DJI RS 2 Expansion Kit, which all together allow for a stable mounting of the RS 2 and the RS 2 Expansion kit on the chest. This places the camera right in front of the operators face, hence giving the desired POV look, whilst offering the silky smooth movement of the RS 2. We made a cheeky in-house Feral promo showcasing the look so check that out here!
Need a camera to use with this? Why not grab one of our Sony A7s mkiii kits!
Player 1 POV Rig Specs
POV Chest Rig:
– Adjustable and suitable for all sizes
– Consist of chest and neck support
– Max load:
DJI RS 2
– Peripheral Accessory Connections: RSA/NATO ports, 1/4″-20 mounting hole, Cold shoe mount, Video transmission/follow focus motor port (USB-C), RSS camera control port (USB-C), Follow focus motor port (USB-C)
– Battery Capacity: 1950 mAh
– Battery Power: 30.03 Wh
– Max. Battery Life: 12 h
– Charging Time: 1.5 h (24W USB adapter using the QC 2.0 or PD protocol)
– Connections: Bluetooth 5.0; USB-C
– Mobile Assistant Software Requirements: Android 7.0 or above
– Tested Payload: 4.5 kg (10.0 lbs)
– Maximum Controlled Rotation Speed: Pan: 360°/s, Tilt: 360°/s, Roll: 360°/s
– Pan axis control: 360° continuous rotation
– Roll axis control: -95° to +240°
– Tilt axis control: -112° to +214°
– Operating Frequency: 2.4000 GHz – 2.4835 GHz
– Transmission Power: <8 dBm
– Operating Temperature: 20° to 45° C (-4° to 113° F)
– Gimbal Weight: Approx. 960 g (2.12 lbs) (excluding the Quick-Release Plates and Camera Mounting Plate)
– Camera Mounting Plate Weight: Approx. 150 g (0.33 lbs)
– BG30 Grip Weight: Approx. 265 g (0.58 lbs)
– Extended Grip/Tripod Weight: Approx. 226 g (0.50 lbs)
– Upper and Lower Quick-Release Plates Weight: Approx. 105 g (0.23 lbs)
– Gimbal Dimensions: Folded: 260×265×70 mm (excluding the BG30 grip), Unfolded: 410×260×195 mm (including the BG30 grip, excluding the extended grip/tripod)
DJI RS 2 Expansion Base Kit:
– Can be powered via D-Tap Cable
– Control cables are 5m long
Manfrotto MCLAMP Smartphone Holder:
-Suitable for any smartphone with a width up to 8.4cm
– 1/4″ inch thread at the base and at the back
– Silicone plates for a secure hold
– Holder is self-standing
– Material: Technopolymer
– Max. Load: 1 kg
– Maximum height: 10.8 cm