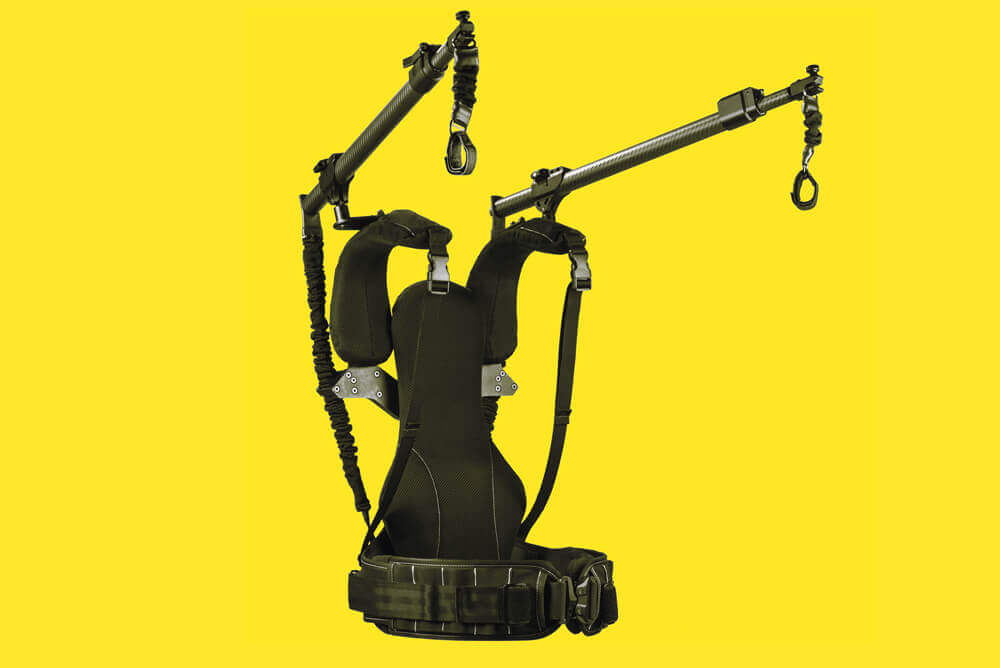 Ready Rig GS Stabiliser Support Vest
The Ready Rig GS Stabiliser Support Vestis a professional body mounted camera gimbal stabiliser that provides maximum stability and comfort and still allows unprecedented freedom of movement. No matter what the position, the rig allows the operator to manage the weight load in a comfortable and smooth manner, allowing them to focus on getting the shot.
The patented system utilises spring-loaded technology with four-point stabilisation and two adjustable stabilising rods to steady the camera, offering greater flexibility and manoeuvrability. It can achieve a variety of camera angles fluidly while enabling hands-free operation to pull focus, zoom or adjust camera settings. Two sided dampening on each rod softens Y axis translations such as the operators gait, providing a more stable and usable image and a newly designed waist support system evenly distributes weight across the hips.  When in use, the rear accessory plate functions to pull back the system's centre of mass reducing strain on the back.
The gimbal supports up to 30lb/13.6kg and assembles in less than 2 minutes, fitting into an included carry case for easy travel. The fully assembled weight is 10lb/4.5kg.
Pair the Ready Rig GS together with one either our Ronin 2 or Movi Pro.
Follow us on Instagram to see more of our kit in action.
Ready Rig GS Specs
GIMBAL SUPPORT
Y axis stabilization, supports up to 30lb/13.6kg
Extended range of motion
Quick release connector for gimbals
RUGGED
Carbon Fiber Rods
1000D Cordura pack exterior
Precision engineered aerospace grade aluminium & only quality American parts
MOBILE
Pass through a doorway or sit in a car with ease
Unpack and get to work right away
Light weight small footprint for travel