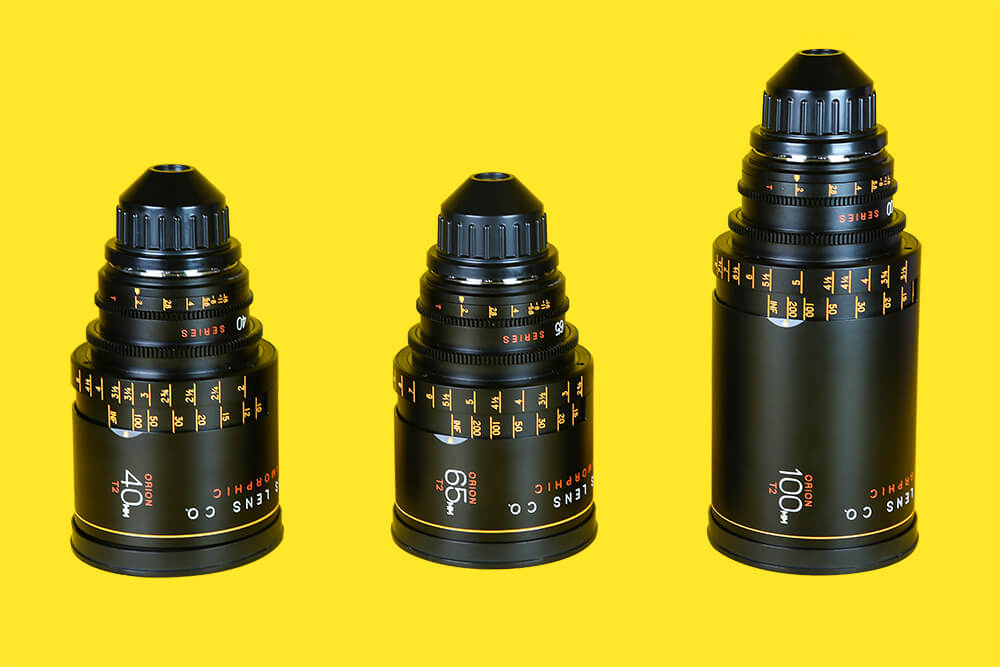 Atlas Orion Anamorphic Lens Set "A"
These Atlas Orion anamorphic lenses deliver a beautiful lens bokeh, disproportionate breathing, and controlled flare. These lenses provide a raw, nostalgic and authentic look (ideal for narrative filmmaking). Additionally, the Atlas Orion's smooth focus and aperture makes them super simple and comfortable to use on set. Saturated blue flares with subtle hints of rainbow flaring gives these lenses a unique signature look.
The Atlas Orion anamorphics were designed to accommodate the rotating mirror shutter of 35mm Motion Picture Film Cameras, meaning that whether your shoot requires you to shoot digital or film, the Atlas Orion anamorphics will give you the coverage you need.
Take a look at this great video showcasing these beautiful anamorphics.
Not quite what you're looking for? Take a look at some of our other lenses here!
Atlas Orion Anamorphic Specs
PL mount lenses
40mm T2
65mm T2
100mm T2
40mm:
T-stop Range: T2-T16
Minimum Focus: 2ft (0.56m)
Weight: 2.2kg (5lbs)
Length 7.4″ (18.9cm)
Front Diameter: 114mm
Image Circle: 31mm
Alexa Sensor Coverage: 4:3 ANA 23.76 x 17.89mm
RED Sensor Coverage: Monstro 8K 6:5 ANA
65mm Lens:
T-Stop Range:  T2-T16
Minimum Focus: 2.75ft (0.84m)
Weight 2.2kg (5 lbs)
Length 7.2″ (18.4cm)
Front Diameter: 114mm
Image Circle: 31mm
Alexa Sensor Coverage: 4:3 ANA 23.76 x 17.89mm
RED Sensor Coverage: Monstro 8K 6:5 ANA
100mm Lens:
T-Stop Range:  T2-T16
Minimum Focus: 3.5ft (1m)
Weight 3kg (6.7 lbs)
Length 10″ (25.4cm)
Front Diameter: 114mm
Image Circle: 31mm
Alexa Sensor Coverage: 4:3 ANA 23.76 x 17.89mm
RED Sensor Coverage: Monstro 8K 6:5 ANA