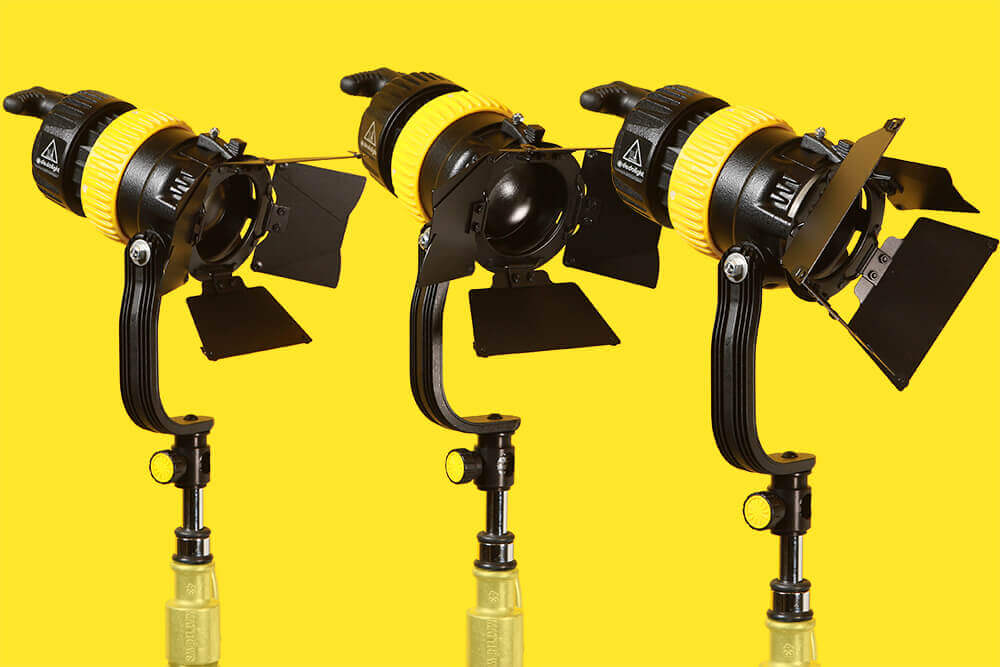 Dedo Bi-Colour 40w LED
Our Dedo Bi-Colour 40w LED kit contains three Dedo lamp heads, three mains dimmers and three smaller battery powered dimmers. The kit is great for simple set ups, perfect for interviews, drama and documentary lighting as well as accents and special effects.
Dedo's narrow clean signature stream of light means you can have incredibly smooth control and an even beam; a perfect hard light for your set up. Separate dimming also means that you can adjust the intensity with no colour change. The Dedo focuses like a true dedolight from a wide 60° to an extremely narrow 4° meaning no stray light and no unwanted shadows. In addition, requiring just 40 watts, the Dedo Bi-Colour 40w LED is energy efficient and produces no significant heat.
In addition to portable dimmers, our kit comes with three light stands, light focusing rings and gel holders.
These Dedo lights have an extremely wide flood and spot ratio, and the controllability allows you to truly "paint with the light" (as Dedo would say himself)!
Specs
CRI: 91
Mounting: 5/8″ diameter baby receiver
Power: 40W
Voltage: 100-260VAC
Dimming: 100 – 0%
Weight: 2.9 lbs
Dimensions: Width 4.29″, Length (flood) 6.37″, Length (spot) 8.87″, Height 3.94″
CCT: 2600k – 6500k
Take a look at our in-house lighting test here.