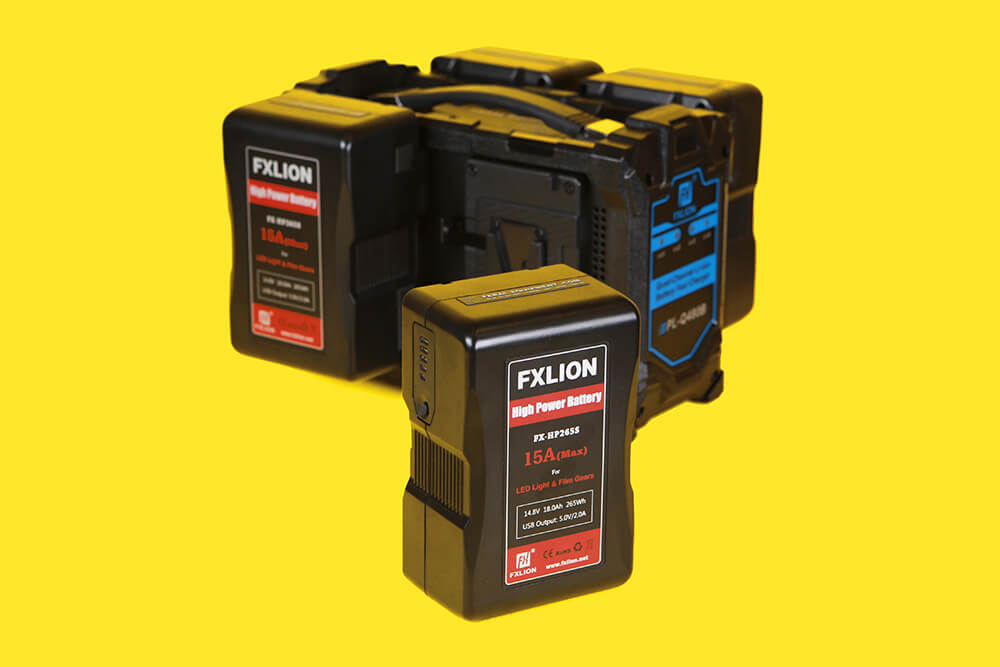 FxLion FX-HP265S V-lock Batteries
FxLion FX-HP265S V-lock batteries are our go-to for highly efficient, non heat emitting, long lasting batteries; perfect to pair with any of our 12V LED lights.
Our kit consists of of four batteries and one high powered four-way charger that can fully charge all batteries in just five hours.
We'd describe the FxLion FX-HP265S V-lock Batteries as the perfect batteries for powering LED panels, but they also work great with our cameras too. Intelligent PCB prevents over-heating , over-charging, over-discharging, and over-current protection.
Each battery has a D-tap out and one-pin connector that can be used as both a charging and discharging port, plus there's an additional USB output that works as an extra powering option meaning you can power multiple units at one time. To give you an idea of just how powerful these batteries are: one FXLion FX-HP265S can power on of our Zylight F8-100's for 2.5 hours, and can power one of our LED Bi-Colour 40w Dedo's for 6 hours both at full output! We can also supply an additional V-lock plate to accompany this battery kit at your request.
Check out our Instagram page to see more of our kit in action, and click here to see other powering options.
FxLion FX-HP265S V-lock Battery Specs
Model: FX-HP265S
Net Weight (per battery): 1.46kg
Working Current: 15A (max)
Nominal Voltage: 14.8V
Capacity: 18.0Ah 265Wh
Battery Dimensions: 15.8cm(L) x 10cm (W) x 6.95cm (H)
USB Output: 5.0V/2.0A