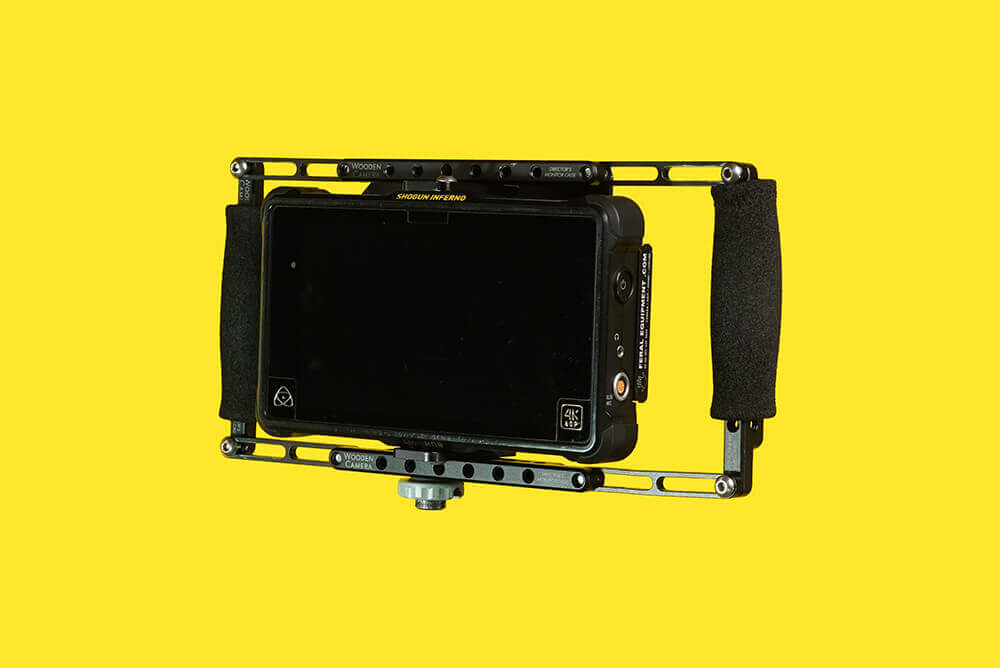 Atomos Shogun 4K Monitor Recorder
Atomos Shogun 4K / Shogun Inferno 4k.
HDMI/SDI in/out.
Woodencam cage.
Got a long day but need to keep things light? Try a lightweight V-lock kit.
Shogun Inferno combines the world's most advanced HDR monitor with high resolution, high frame rate recording. Connect cinema cameras from Arri, Sony, Canon, Panasonic, Red or JVC over the QuadLink SDI or HDMI 2.0 connections to make mastering a high resolution, high frame rate, HDR workflow a reality.
AtomHDR image processing lets you shoot with the high brightness range of your camera's Log profile while maintaining vibrant true-to-life colours. Conventional monitors lack this capability, displaying the brightness detail of Log but with a washed out image that makes judging exposure difficult. Be at the forefront of the HDR revolution by having a field monitor capable of resolving HDR in the field as you see it in Post Production and record the original Log image direct from the sensor for HDR grading in post production.
The 10-bit panel resolves more colours (1.07 billion colours compared to 16.7 million for standard 8-bit panels) to ensure smooth colour transitions in both HDR and SDR (standard dynamic range) shooting. The 1500nit panel brings HDR to life, accentuating high contrast scenes. While for regular SDR scenes, use the brightness slider to take advantage of the 1500nit screen for hood-free outdoor monitoring.
The AtomHDR engine not only lets you set perfect exposure in the field, you can take a HDR output in either PQ or HLG standard to compatible HDR screens or accept HDR input from your NLE for mobile grading or for HDR connection from cameras with a PQ or HLG output.
Shogun Inferno combines high resolution recording, high frame rate recording and playback. Record Video from both HDMI and SDI cameras direct from the sensor to 4:2:2 10-bit ProRes or DNxHR up to an amazing 4K 60p or HD 240p. Record Raw over SDI up to 4K 30p either directly to CDNG or record to ProRes or DNxHR. Playback recorded ProRes or DNxHR files via the HDMI or SDI output at the same high frame rates to supporting monitors.
The QuadLink SDI connections offer the widest camera compatibility with 1.5G/3G/6G/12G SDI inputs and a convenient single 12G SDI output. Recording RAW from Arri, Sony, Canon and Panasonic cameras is not only convenient, it also offers a far more affordable solution in terms of media costs.
The Flame Series is packed with an extensive suite of scopes, all 1-touch away and simple to use. The Video OS includes tools for focus, framing & exposure (Focus peaking, 2:1/1:1 zoom, Zebra, False Colour, Safe Area, luma/RGB parade, vectorscope) along with a flexible 3D LUT implementation (use built-in LUTs or upload .cube files) and options for de-squeezing anamorphic content.
Inferno features the patented continuous power system – a hot swappable dual battery system that automatically swaps to the second battery when power is low. To support the dual battery system we include a blazingly fast battery charger, two 4-cell batteries and a D-Tap to DC coiled cable to ensure continuous power in the field is all but assured.
The Shogun Inferno has multiple audio options replacing the need for a separate audio recorder. Monitor up to 8ch of embedded HDMI audio, up to 12ch of SDI audio or use the included XLR breakout cable to connect with external microphones for balanced analogue audio with 48V phantom power.
Outside of RAW and high frame rate 4:2:2 Apple ProRes / AVID DNxHR recording, the Shogun Inferno adds recording functionality not found in other recorders. Trigger start/stop recording over HDMI or SDI popular cameras, convert interlace to progressive signals on the fly with built-in 3:2 and 2:2 pulldown or use features like Pre-roll (continuous cache recording) and Time lapse to maximise your creativity.
Our built-in armor enhances protection & airflow whilst the raft of accessories (2 x NP series 4-cell batteries, fast battery charger, USB3 docking station, XLR breakout cable, Lanc cable, DC to D-Tap cable, 5 x Master Caddy cases, DC adapter & HDR sun hood) and the premium HPRC flight case ensures you're ready to hit the field immediately.
IMPORTANT WARRANTY NOTE – LCD MONITORS
For LCD monitors, "dead" pixels that are within the central region of the screen are usually repaired under warranty, however if pixels are around the outer edges of the screen, this is usually classified by manufacturers as a paid repair.
3+ pixels or edge bleed may be covered under the first year warranty, In most cases dead pixels and not covered under warranty by LCD manufacturers.
To keep up to date and benefit from the latest feature set, please register your unit with Atomos and download the latest Shogun Inferno firmware from https://www.atomos.com/firmware/shogun-inferno
SUMMARY
Aspect Ratio: 16:9
Inputs: HDMI, SDI
Monitor Location: Field
Outputs: HDMI, SDI
Panel Type: LCD
Resolution: 1920 x 1200
Screen Size: 7.1 Inch
Video Resolution: 4K