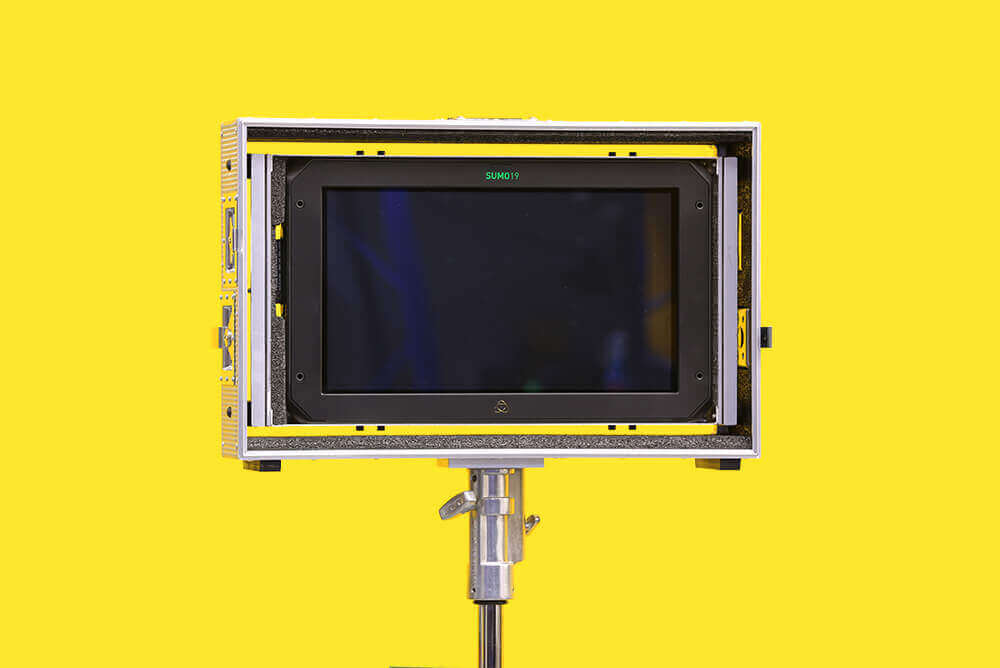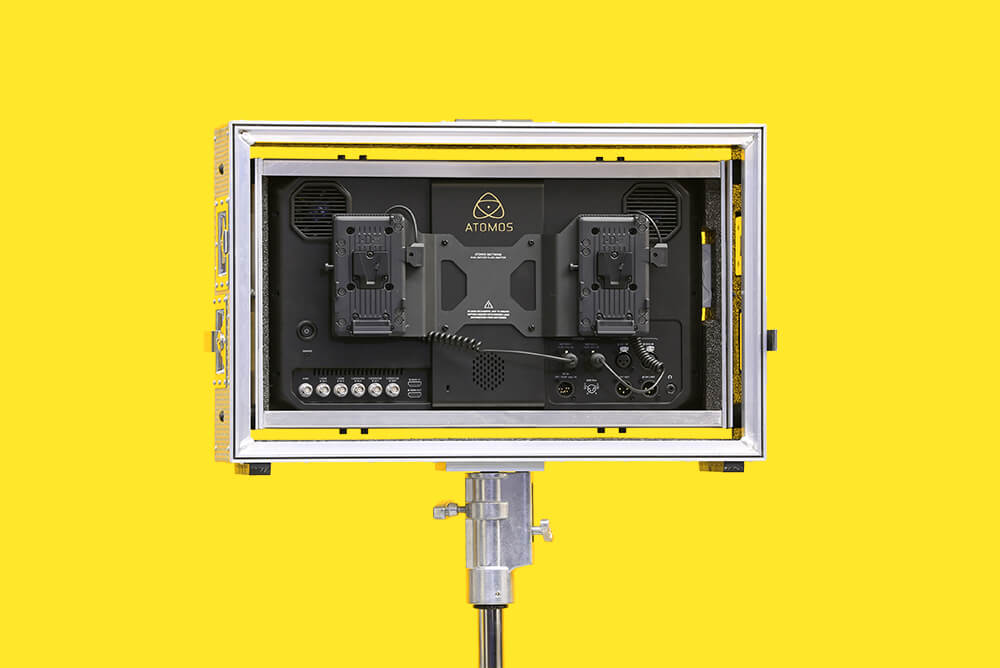 Atomos Sumo 19″ Monitor / Recorder
The Atomos Sumo 19″ Monitor and Recorder is the perfect director or client monitor and can equally be used as an affordable HDR option in the studio or edit-suite. The Sumo, with it's large and colour accurate 19″ 1920 x 1080 LCD panel, brings HDR to life in a way that can allow for cinematographers to fully realise a cinema camera's dynamic range when shooting in log or raw formats.
The Atomos Sumo 19″ monitor has a range of built-in monitoring tools, all of which are compatible with HDR rendering and can easily manage the larger dynamic range. Utilising Master Caddy II storage media, it can record incoming DCI and UHD 4K in varying Apple ProRes codecs or Avid DNxHR, and with supported cameras, ProREs Raw and HQ recording is also possible.
The HDR capabilities of the Sumo can also be invaluable to editors and colorists, allowing them to see deeper into the captured image and showing off subtle graduations in recorded footage, due to the 10-bit processing and 10-bit FRC power of the LCD panel. The display can also be calibrated in order to maintain colour accuracy over it's lifetime.
The Atomos Sumo pairs perfectly with any of our range of top cinema cameras.
Follow us on Instagram to see more of our kit in action.
Atomos Sumo Specs
DISPLAY
Panel type: IPS-type LCD
Display Size: 19.00″ / 48.0 cm
Screen Resolution: 1920 x 1080
Aspect Ratio: 16:9
Touchscreen: yes
Maximum Brightness: 1200 cd/m2
Bit Depth / Color Support: 8-Bit+FRC (1.07 Billion Colors)
Real-Time LUT Monitoring: SDR
I/O
Video: 1 x HDMI Type A (HDMI 2.0) Output, 1 x BNC (12G-SDI) Output, 1 x HDMI Type A (HDMI 2.0) Input, 3 x BNC (3G-SDI) Input, 1 x BNC (12G-SDI) Input
Embedded Audio: HDMI: 8-Channel, SDI: 12-Channel
Audio: 2 x XLR Input,1 x 3.5 mm Headphone Output
Power: 1 x 4-Pin XLR Input
Other I/O: 1 x LANC (2.5 mm)
FORMAT SUPPORT
Video Format:
SDI (8/10-Bit 4:2:2)
DCI 4K: 60/50/30/25/24
UHD 4K: 60/50/30/25/24
1080p: 120/60/50/30/25/24
1080i: 60/50
720p: 60/50
HDMI (8/10-Bit 4:2:2)
DCI 4K: 60/50/30/25/24
UHD 4K: 60/50/30/25/24
1080p: 120/60/50/30/25/24
1080i: 60/50
720p: 60/50
Video Signal Conversion:
HDMI to SDI
DCI 4K: 60/50/30/25/24
UHD 4K: 60/50/30/25/24
1080p: 120/60/50/30/25/24
1080i: 60/50
720p: 60/50
SDI to HDMI
DCI 4K: 60/50/30/25/24
UHD 4K: 60/50/30/25/24
1080p: 120/60/50/30/25/24
1080i: 60/50
720p: 60/50
RECORDING
Pulldown Conversion: 2:2, 3:2
Camera Trigger: SDI, HDMI
Encoding Formats:
4096 x 2160
ProRes Raw, Raw HQ, 422, LT, HQ at up to 60 fps
DNxHR HQ, HQX, SQ, LB at up to 60 fps
CinemaDNG at up to 30 fps
3840 x 2160
ProRes Raw, Raw HQ, 422, LT, HQ at up to 60 fps
DNxHR HQ, HQX, SQ, LB at up to 60 fps
CinemaDNG at up to 30 fps
2048 x 1080
ProRes Raw, Raw HQ, 422, LT, HQ at up to 240 fps
DNxHR HQ, HQX, SQ, LB at up to 240 fps
CinemaDNG at up to 120 fps
1920 x 1080
ProRes Raw, Raw HQ, 422, LT, HQ at up to 240 fps
DNxHR HQ, HQX, SQ, LB at up to 240 fps
1280 x 720
ProRes Raw, Raw HQ, 422, LT, HQ at up to 60 fps
DNxHR HQ, HQX, SQ, LB at up to 60 fps
5720 x 3016
ProRes Raw, Raw HQ at up to 30 fps
Recording Media: 1 x2.5″ SSD (SATA III)
Phantom Power: +48 V
POWER
DC input power: 14.4 VDC
Power Consumption: 75w
MOUNTING
10 x1/4″-20 Female
5 x3/8″-16 Female
GENERAL
Dimensions (W x H x D): 19.8 x 12.2 x 2.5″ / 50.4 x 31 x 6.3 cm, 19.8 x 13 x 7.1″ / 50.4 x 33 x 18 cm, Including Stand
Weight: 12.3 lb / 5.6 kg, 13.7 lb / 6.2 kg, Including Stand