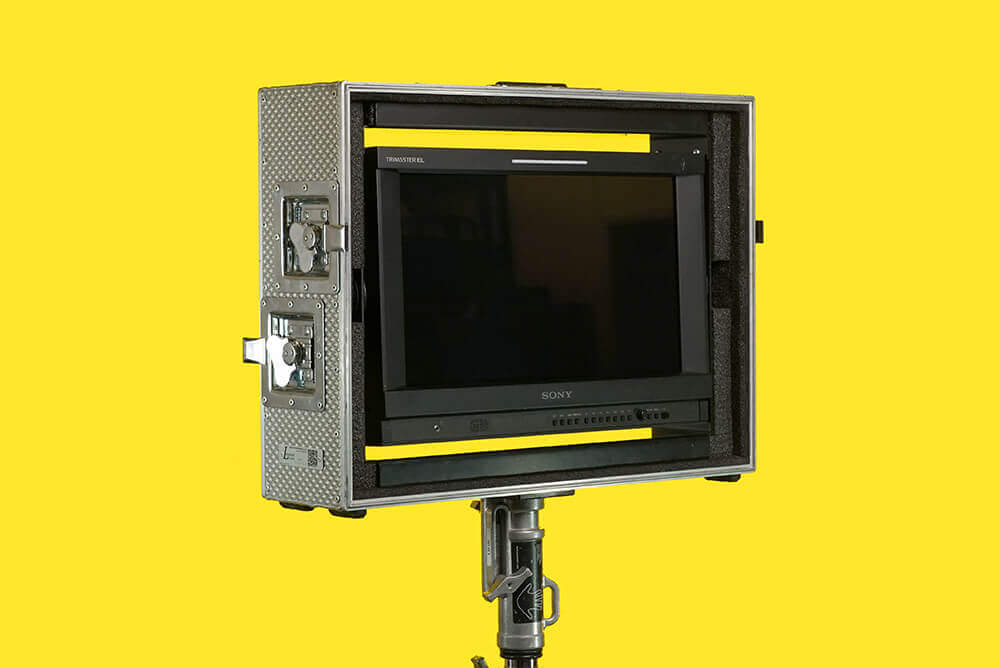 Sony OLED 17" Monitor
Need a client monitor? Grab yourself one of our brilliant Sony Oled 17″ monitors. The Sony PVM-A170 17″ Professional Trimaster OLED Monitor is a slim and easy to set up Trimaster OLED panel offering fantastic colour accuracy and the widest viewing angle of any available professional flat panel broadcast monitor. It is lighter than its predecessor, the PVM-1741A by a full 40% and as a result is easy enough for one person to carry by hand. It is also designed to withstand the wear and tear of daily use and has a tough double-coat paint finish. It has 2 x 3G/HD/SD-SDI; 1 x HDMI input; 1 x analogue composite 1 x stereo audio jack. AC or V-lock powered and also supports anamorphic image conversion and camera/lens metadata display. Heard enough? We think yes! Get in touch and get this on your next shoot.
Our kit comes with a video accessories box including 5m & 10m BNC cables, a 30m power extension and a tub of useful BNC bits.
Need it wirelessly? Take a Teradek Bolt Pro 2000 and some V-Locks.
Follow us on Instagram to see more of our kit in action.
Sony Oled 17
Picture Performance: 
Panel: OLED panel
Picture size (diagonal): 419.7 mm (16 1/2 inches)
Effective Picture Size (H x V): 365.8 x 205.7 mm (14 1/2 x 8 1/8 inches)
Resolution (H x V): 1920 x 1080 pixels (Full HD)
Aspect: 16:9
Panel Drive: RGB 10-bit
Viewing Angle (Panel Specification): 89°/89°/89°/89° (typical) (up/down/left/right contrast > 10:1)
Input:
Composite Input: BNC (x1), 1.0 Vp-p ±3dB sync negativ
SDI: Input BNC (x2)
HDMI input: HDMI (x1) (HDCP correspondence
Audio input: Stereo mini jack (x1), -5 dBu 47 kΩ or higher
Parallel Remote: RJ-45 modular connector 8-pin (x1) (Pin-assignable)
Serial Remote (LAN): RJ-45 modular connector (x1) (Ethernet, 10BASE-T/100BASE-TX)
DC Input: XLR-type 4-pin (male) (x1) DC 12 V to 16 V (output impedance 0.05 Ω or less)
Output:
Composite Output: BNC (x1), Loop-through, with 75 Ω automatic termination
SDI Output: BNC (x2), Output signal amplitude: 800 mVp-p ±10%, Output impedance: 75 Ω unbalanced
Audio Monitor Output: Stereo mini jack (x1)
Speaker (Built-in) Output: 1.0 W (mono)
Headphone Output: Stereo mini jack (x1)General:
Power requirements: AC 100 V to 240 V, 0.9 A to 0.5 A, 50/60 Hz DC 12 V to 16 V, 6.4 A to 4.8 A
Power consumption: Approx. 75 W (AC power supply) (max.), Approx. 60 W (AC power supply) (average power consumption in the default status)
Operating temperature: 0°C to 35°C (32°F to 95°F, Recommended: 20°C to 30°C (68°F to 86°F)
Operating humidity: 30% to 85% (no condensation)
Dimensions (W x H x D) – without case: 435.0 x 274.0 x 65.5 mm* (17 1/4 x 10 7/8 x 2 5/8 inches) (without monitor feet), 435.0 x 296.5 x 165.0 mm (17 1/4 x 11 3/4 x 6 1/2 inches) (with monitor feet)
Weight: Approx. 4.2 kg (9 lb 4.2 oz