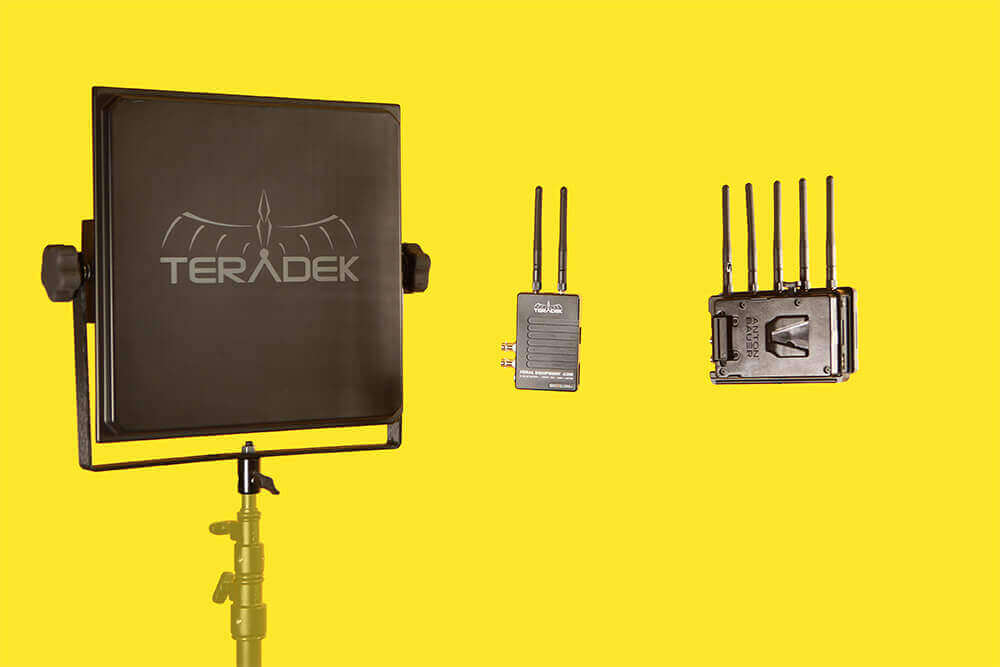 Teradek Bolt Pro 1000
Teradek Bolt Pro 1000 dual kit. We also stock the 600 kit
Compatible with 3rd generation Bolt 1000, Sidekick II, Bolt 1000 LT, and 703 Bolt

Professional software features: 3D LUTs, 5GHz spectrum analyser, manual channel selection

Dual input (SDI + HDMI) and SDI loop out on TX

HDMI and Dual 3G-SDI outputs on RX
Bolt Pro 1000 is a premium wireless video solution for cinematographers, broadcasters, and independent content creators. It transmits visually lossless 4:2:2 video over the unlicensed 5GHz band at less than 1 millisecond of delay. Bolt's new firmware ensures your system reaches its full potential right out of the box. They also improved reconnect times so your wireless link is restored instantly when you come back into range.
The Teradek Bolt Pro 1000 transmitters are 20% smaller than previous systems and lighter too. They have also improved their resilience in high heat conditions so that they operate flawlessly all the way up to 54 degrees. It is not only more capable in every way, but more affordable too. Compared to older systems, the new Bolt Pro 1000 gives you 35% more for your money. Every model supports real-time standards and cross conversion from TX to RX, allowing you to automatically convert resolution, frame rate, and inputs.outputs (HDMI) without any additional hardware. The Panel Array Antenna is your go-to solution for cutting through wireless interference in crowded environments. When attached to a Bolt Pro 1000, the antenna provides and extremely robust directional signal that will ensure your signal arrives uninterrupted.
Perfect for use with MoVI and other gimbals, Bolt's TX features a built-in HDMI to SDI converter, allowing you to connect both your on-camera monitor and video source via the same device. Bolt is housed in a hardened aluminium chassis designed to withstand years of abuse in both extremely hot and cold conditions. Both the TX and RX feature 1⁄4"-20 holes for mounting to cameras and monitors as well as 2-pin Lemo connectors for power.