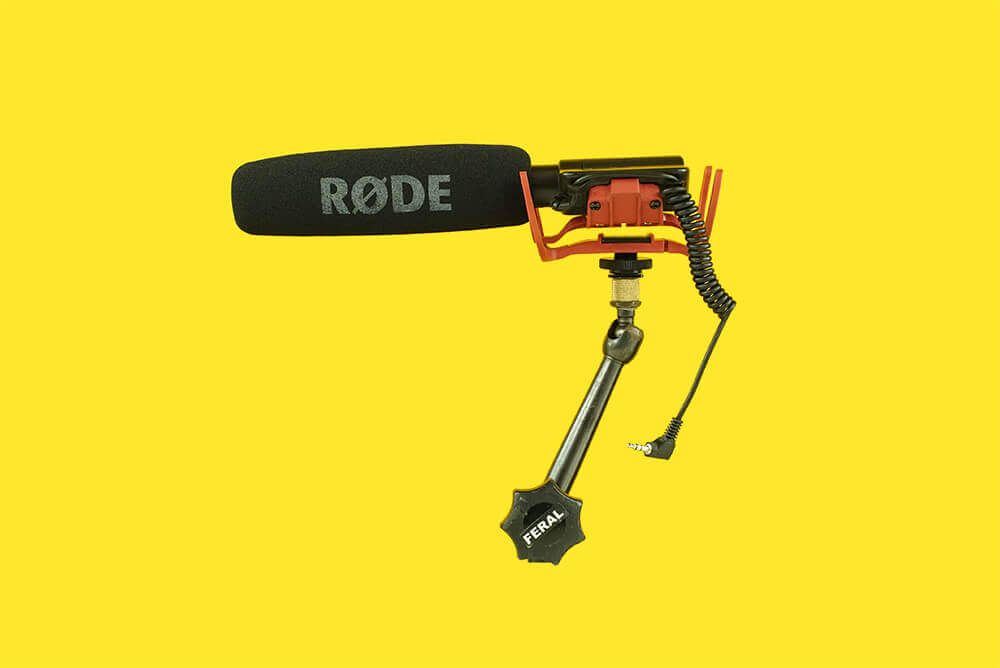 RØDE DSLR Microphone
Need an easy low-fuss mic for a quick shoot out in the streets? Grab our RØDE VideoMic microphone. It is small, lightweight and easy as 1,2, 3 to set up.
The RØDE VideoMic microphone is a short shotgun style microphone intended for professional use on hot-shoe equipped cameras. It has a wide bandwidth, low noise and an integral foam windshield. The construction uses an ABS to keep weight very low but retain strength. The powering is via an internal 9V alkaline battery with an expected life of 100hours. The output uses an unbalanced stereo mini-jack and on/off, low-cut and low battery indicator are fitted on the rear panel. The integrated Rycote® Lyre® based shock mounting system isolates the VideoMic capsule and electronics from its all-metal shoe mount, providing isolation from external physical factors that may cause unwanted rumble and vibrations in the microphone. Made from a single piece of hard-wearing thermoplastic, the Lyre® provides superior acoustic suspension to traditional elastic solutions, and will never wear out, sag or snap.
This has a standard sized shoe mount and also includes a 3/8″ thread in the base for easy mounting on a boom pole or stand.
This is for the the lower end shoots – if you need something with a bit bit more oomph, take a look at our other microphone options!
Follow us on Instagram to see more of our kit in action.
Rode VideoMic Specs
Acoustic Principle: Line Gradient
Active Electronics: JFET impedance converter
Capsule: 0.50″
Frequency range: 40Hz – 20kHz
Output Impedance: 200Ω
Maximum SPL: 134dBSPL
Sensitivity: -38.0dB re 1 Volt/Pascal (12.60mV @ 94 dB SPL) +/- 2 dB @ 1kHz
Equivalent Noise Level (A-weighted): 20dBA
Power options: 9v
Dimensions: 65.00mmH x 102.00mmW x 250.00mmD
Weight: 176g
Max Diameter: 65mm