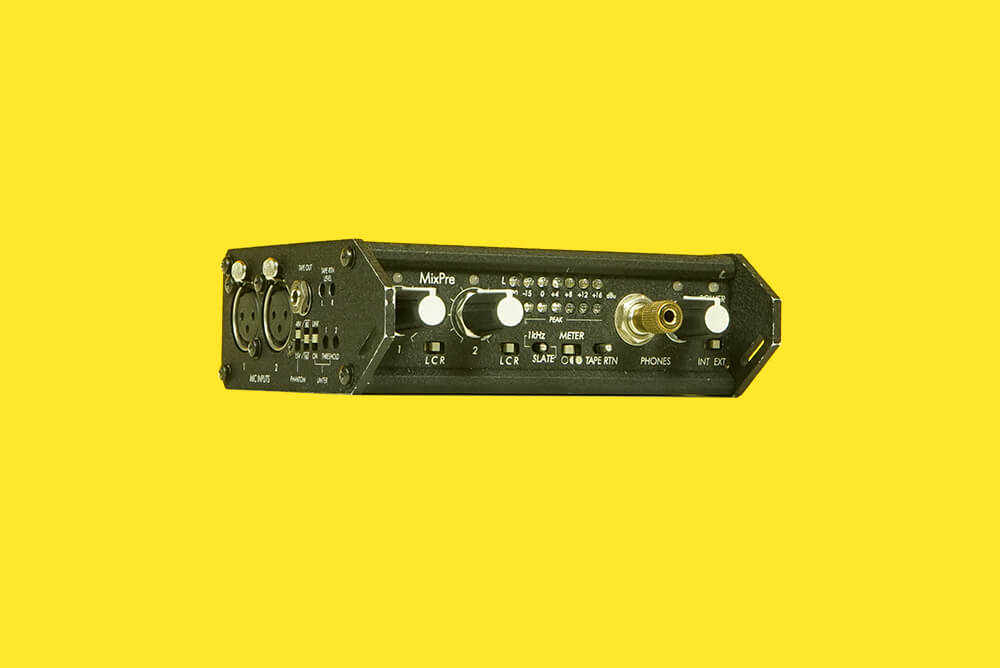 Sound Devices MixPre FP24
Looking for a super small yet rugged sound recorder? Look no further – the Sound Devices MixPre FP24  is a studio-quality two-channel, portable, stereo microphone preamplifier/mixer. With its pan switches, built-in slate microphone, 1 kHz tone oscillator, and headphone monitoring, the MixPre is a flexible and portable mixer, making it the perfect companion when out in the field. The MixPre has impressive audio performance and comprehensive features, making it ideal for any studio or location shoot. Radio, television, and film production engineers value its compact size and ability to withstand environmental extremes. The Sound Devices MixPre FP24 combines rugged mechanical and electrical construction, compact size, and high-quality components for superb performance no matter what you are using it for.
Our kit comes with a breakout loom, headphones, a KT systems bag and shoulder strap and is powered by 2 x AA batts (supplied) or 4-pin hirose (for NP1 shoe).
Need some mics to use with this? Check out our microphone selection over here!
Follow us on Instagram to see more of our kit in action.
R-44 sound mixer Specs
Maximum of 66 dB of gain per input
Premium Lundahl input transformers
Sealed, conductive plastic potentiometers
Phantom power, selectable between 48-volts and 15-volts
High-pass filters with 80 or 160 Hz corner, 6 dB per octave
Input panning to Left, Center, or Right outputs
Dynamic range exceeding 110 dB
10 Hz to 50 kHz audio bandwidth
Exceptionally low distortion characteristics
Discrete 6-transistor balanced output drivers